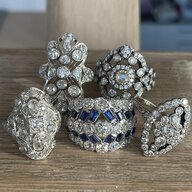 Joined

Sep 9, 2020
Messages

2,837
I think for many of us here on PS, "forever" (in terms of jewelry) is loosely translated to "for now". That doesn't mean you won't absolutely love it. You've put so much of yourself into this project that I honestly think you will. But you've learned a ton, too and with that comes the thirst for more of the excitement and challenge of the next project or hunt.

This ring will be one you will love forever because it will be so personal to you. But will it always be the one on your left ring finger? Only time will tell. It could be or it could be worn on your right hand or alternated out as your mood dictates.

For years I had one ring that represented being "taken". Now (after finding PS), I have five that I am likely to rotate. It's not that I don't love my original, or even my first upgrade. It's that I love being able to customize my ring finger and enjoy all the pretty things and express my personality through that.

I hope that makes sense.
+1