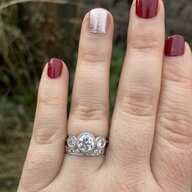 Joined

Feb 3, 2014
Messages

411
Hi everyone,
I've started tentatively looking for an OEC as an upgrade, but it looks like in order to get the size I would like something has to give!
I live in the UK so this is a modest upgrade and actually my third! I started with a 0.39 MRB, found Pricescope and fell in love with old cuts. I got a beautiful 0.73ct OEC from Grace but have been suffering with DSS. Having spoken to my husband he has a real sentimental attachment to my engagement ring, so he's not keen to get a new setting and would rather something new. However, it's hard for him to get his head around how much diamonds cost. It's not so much affordability but how much seems reasonable to spend to him, if that makes sense?
We will have been together for 20 years in October so it's feels like a nice time for the upgrade and in his own words if he was buying me an engagement ring now the budget would be completely different, but he won't say how much!! All I can say is that I saw a nice mine cut on Instagram and for the specs thought it was very reasonable, but when I spoke to him about it he was a bit taken aback. I may need to remind him how much my last upgrade was! I'm also sending him other diamond posts so he starts to get a feel for how much diamonds cost.
There is a diamond that I felt "got away" as he was nowhere near purchasing (still isn't) but it was a 1.8ct albeit with an EGL cert and to my mind reasonable (possibility due to the cert!). I have since seen that lower colour stones may be the way to go. I've seen what looks like a nice O-P diamond with a GIA cert. I think I would prefer to compromise on colour than clarity? Although recently I've seen some I1 that don't look like that grade, at least to my inexperienced eyes?
I tried to see some lower colours in real life but in Hatton garden the shops that had old cuts tended to have whiter stones. I did learn though that I don't like transitionals (always thought I would love them from images) and I'm drawn to OECs and while I also love OMCs they tend to face up much smaller. I also tried on different carat weights, shame I don't know the actual measurements, because despite having small child size hands I have fairly fleshy fingers (size 6) and I was totally comfortable with a 1.5ct.
How would you try to maximise size, would you go down in colour? I'm not so hung up on carat weight but more dimensions, as long as it doesn't compromise performance.
My engagement ring that needs resizing - 0.73ct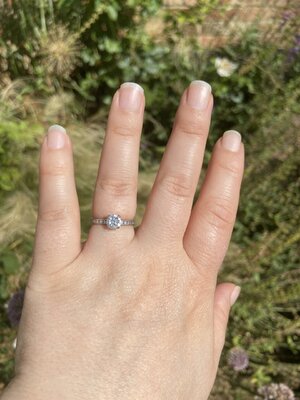 A 1.34ct I tried on and liked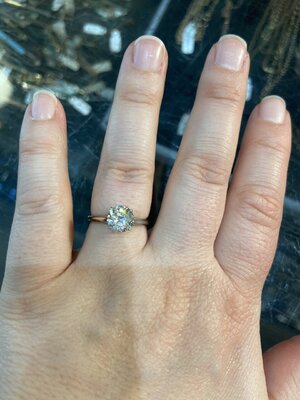 This is a 1.12ct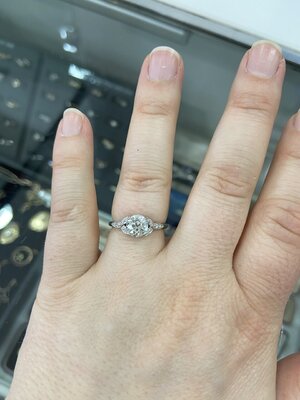 This is the biggest I tried - a 1.5ct transitional which didn't feel hugely bigger than the others, but that may be because it's a solitaire rather than an ornate setting.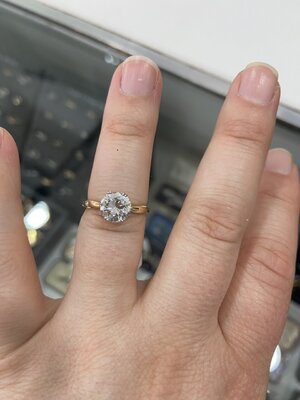 Thank you for reading if you managed to get to the end!!