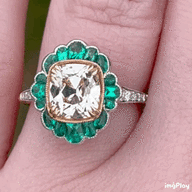 Joined

Jan 29, 2012
Messages

4,867
Wow... Very unique setting for the AVC... Stylish and stunning
Thank you!
Spectacular! Gorgeous stone and that emerald halo is EVERYTHING
Thank you! I'm super excited to have an emerald halo.

Just lovely - lovely is the first word that comes to mind. Soft, pillowy, lovely goodness!
Thank you so much!

Love this. I can't wait to see hand shots! That halo is perfection.
Thank you! Hopefully I'll have it tomorrow or Saturday and I can post some hand shots.
Absolutely gorgeous ring!
Thank you!
I kept looking at the video - it is so unique, great job!

DK
Thank you! I think I've watched that video like 30 times now.

Oh that green is so flattering to that chunky cushion of sparkle. I love the whole thing to pieces. The shoulders are so vintage and elegant!

Worth the wait for sure, calibre cuts are such an expensive PITA. Hence why I have never swapped my cracked emeralds
First off, I freaking love your emerald halo!
Thank you so much for the compliments. I was really unsure about what to do with the shoulders but I think they turned out beautifully. Especially with those baby OEC's.