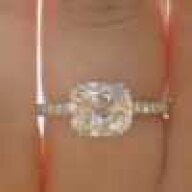 Joined

Mar 14, 2006
Messages

960
To be set in the most perfect Leon, of course! (FYI - Leon's office is literally across the street from Mark's).
Now, skip ahead for the barrage of photos or read the long story below!
First off, many many many thanks to Mark Turnowski at Engagementringsdirect and Leon Mege, as well as his staff. Both vendors were terrific, and I would not hesitate one second to recommend either! A shout out to Chubb Insurance for being fantastic to deal with. And another shout out to Dani & CrookedRock (and the rest of the PS community) for being my moral support throughout this process.
As many of you know, how this all started was when I lost my original e-ring back in January. Chubb was fantastic and paid out our claim within a few weeks. I was distraught so I didn't even think about what I wanted to do until February.
In early February, I contacted Mark about cushions. My original stone was round but I realized I wanted some classic but with a twist. Boston_Jeff and Pauly's stones were my inspiration! So I set Mark out on a hunt for something similar to theirs and in the 1.75ct to 2.0ct range. Almost immediately, Mark responded and told me he had a gorgeous 1.66ct stone and thought it would be perfect for me.
When we went in, Mark was absolutely FANTASTIC! He had 4 cushions of all different styles – including glloyd's beauty and the stone he mentioned earlier to me, as well as a modified. I loved the patterning on glloyd's and the 1.66ct but thought they were too small. Keep in mind I'd just seen a few 3+ct stones at Tiffany's the day before. So, I asked Mark to keep looking. He continued to do so and after a few weeks let me know that there were few stones out there as gorgeous as the 1.66ct. We went in for another look (which was the day I saw CrookedRock's AMAZING monster of a stone). I still was stuck on the size and crazy me told Mark he should let it go! Again, he kept looking but said there's nothing out there that would suit you. It must have been fate because Mark said, I still have the 1.66ct. When I went in this time (late-March at this point), the size was perfect…dare I say, large even (my eyes must have shrunk back to normal). In comparison to a 2ct stone with the same l/w, it looked nearly identical. It was BLAZING white! So finally, I had my stone.
Then, there was the drama of finding a setting. The original plan was just to get a plain temp wg setting because we'd gone over-budget with the stone, and we're paying for our wedding. But my WONDERFUL fiancé said you're crazy; that stone is too beautiful, get what you want! So I set out to find the perfect setting to showcase the ring. I looked at the
Ritani
Endless Love no halo, which was pretty but I felt it needed something else.
After getting an absolutely reasonable quote from Leon Mege, that was it. Leon (and his staff) were fantastic. He was so patient with me (and Dani), and even cracked jokes with us. I brought in a stack of pictures, and we discussed every little detail. I knew I wanted something similar to Tiger's AMAZING ring but slightly modified. I asked Leon to shrink the donut on the bottom as much as possible (without altering the integrity of the design) so the gap w/ my wedding ring would be tiny. I went with a bright-cut pave over the "Harry Winston" style simply because I preferred the look. We talked about the width of the shank for a good 15 minutes (as well as finger size). I went back and forth btwn. 1.6mm and 1.8mm, and decided on 1.8 (and then fought myself on this decision here on PS for while). I also asked if he could complete the ring before my graduation on May 18th. On Monday when I dropped off my deposit, Leon & I talked again about the width and also about the type of melee. He told the difference btwn 1.6 and 1.8 was minisucle and it was up to me. I stayed with the 1.8mm. He also showed me a single cut pave ring which I LOVED and decided I wanted that as well.
I have to say it was the LONGEST 5 weeks of my life! I scrutinized every choice I'd made again & again. Finally, yesterday morning I got an email saying my ring was DONE!!! And I have to say, it is without a doubt the perfect setting for this stone. Every little detail, from the double prongs to the perfect placement of the melee, to the "w's" creating the basket, and the amazing glimmer of the single cut stones!
As a forewarning, these photos do this ring/stone NO justice. It is a firecracker/fireball and I cannot capture it's beauty for the life of me! If you have any tips, please help (that's a call to you fabu photographers – Mara, Ellen, Diamondseeker).