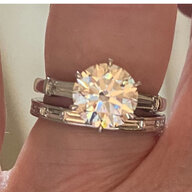 Joined

Mar 31, 2018
Messages

5,383
@JPie

and

@Mamabean

-

I remember trying to get a quote for a new driveway back when I lived in Australia. The gentleman I spoke to said my husband would need to be present. I'm sorry - what?? He assured me - his company would only do quotes if both parties were present (by which I'm sure he meant if the man was present, given that I can't imagine them telling a man he could't have a quote if his wife wasn't there!).

After arguing about this and telling him my husband would need to use a day's annual leave, but given he was the only concreter I could reach, I agreed.

Of course, we sat around all day and he never came. I swear, I would have punched him on the nose if I'd run into him at a later time. He took 5% of my husband's annual leave - stole it needlessly - and just threw it away.

Re the whole 'checking with my husband' thing - I used to do that, but then I realized it was that approach that made salesmen assume female shoppers had to have a man present to make a purchase, and that I was just perpetuating a problem that made it harder for all of us. Now, if I don't want something, I look the sales person in the eye, take my balls in my hand and say....

"No."

Problem solved.
Haha
@mrs-b
! My husband told my son when he got married, "Happy wife..happy life!". It really is true..My husband learned I have stronger opinions and I pretty much make the decisions on most things because I care more. It's not that I have more power..It's just that I really do care more..and I will keep trying to win him over. In the end he gives up! I wear him out!
I just tell them I make the decisions relating to the house..My car purchase was different..That irked me and it takes a lot to make me mad.