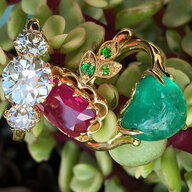 Joined

Oct 19, 2013
Messages

1,672
This has been on my mind lately - and posting the question here was prompted by my reply in a recent thread.
We all know that EnchantedDiamonds ran an 'out there' promo some time before they disappeared.
GIA is running a special on reports - it was suggested maybe due to keep temps on thru a short expected lean period.
There's 'going out of business' stores that aren't really going out of business - they bring in new stock and stay for years.
Aside from regular sales and promotions (and I guess regular is a subjective word)
At what point does some 'above and beyond typical' sales promotion go further in your mind than a sales pitch and passes over to your concern for that company's viability?
As in you wouldn't absolutely trust them with your funds/property?