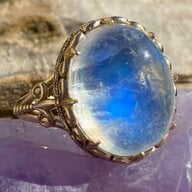 Joined

Mar 13, 2005
Messages

2,262
What month were you born? What is your birthstone? Do you own any birthstone pieces? If you don''t like your current birthstone, what do you wish it could be?
All my life, I thought my birthstone was Citrine (November). Then I did a little more research and the original birthstone for November is supposed to be Precious Yellow Topaz. Citrine is merely a more affordable alternative. But even natural Citrine is rare in nature. Most of the Citrine being commercially sold are really heated/treated quartz.

My current birthstone pieces are a loose Imperial Topaz, loose Mystic Topaz and a Twillight Fire Topaz RHR.
What about you?