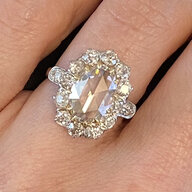 Joined

Mar 8, 2019
Messages

95
This ring is to die for!!!!! I love everything about it. So unique!!!!

I also have been eyeing a certain ring from Victor Barbone but I hesitate because I'm not sure of the facet in the oec.

Yours is truly to die for!!!!!
Thanks so much!!
I was a little weary at first about ordering a ring off of the internet without seeing it in person, I'd never made such a large purchase like that before online so it was a scary thought! I actually only live a few hours away from nyc so I was going to go out there to see the ring first and then make the purchase if I loved it, but I was too afraid that it would sell before I could get there! VB has a 5 day return policy (free shipping each way), and are super helpful and accommodating since most of their customers are from out of state/the country. They'll send as much info and many photos/videos as you request! I had my ring within 24 of purchasing too which was amazing. I'd give it a try if you love it!