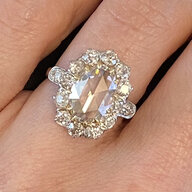 Joined

Mar 8, 2019
Messages

92
This is only my second post on here, but I love this site and it's been so helpful to me.
This is kind of long (apologies) but if you can read it I'd be so grateful
or just skip down to the end for the pics and tell me your opinion on this stone & it's setting, thank you!
I have been in the market for an upgraded engagement ring for over 2 years now (going from a basic 2ct RB set in a 3 sided micro pave halo that I ended up not loving & stopped wearing years ago). I'm really not a fan of much. I don't like "typical" styles of cuts/settings but also want something very classic and timeless (kind of contradictory I know) and 100% want a diamond. I was set and ready to pull the trigger on a 2.5-3 ct emerald cut with tapered baguettes. I'm not hugely keen of the rectangular shape on my finger, given the sharp corners, but liked how it was a unique cut with a timeless feel & setting.
Well fast forward to last week. I came across this beauty (pics below) and was blown away. I've never had such a visceral reaction to a ring before! It truly took my breath away. It's an antique (circa 1905!) oval, 2 ct rose cut diamond in a halo of OEC diamonds. I love how the OEC diamonds are unique and really compliment yet stand out from the rose cut. I never considered a rose cut because of what I've read about them being lifeless and I never considered an oval shape simply because I'm just not a fan of the type of sparkle brilliant cuts give. I also normally don't like halos because they all seem to blend into the center stone and you can't differentiate the two.
I'm not concerned with it being such an old antique, it was purchased through a trusted source (Victor Barboné - I cannot recommend them enough!!) and I absolutely baby my jewelry. I'm not the type to wears my rings all the time, just when I go out.
My main concern is the large size on my size 4 finger. Although it's a 2ct, given the type of cut it faces up as a 2.5 ct (10.71 x 7.54), and the halo is on the chunkier side so there's a lot of finger coverage. Also, as much as I love the rose cut, it's true what they say and the shallow sparkle (while it's there) is just... different. I LOVE the flashy effect but I do wish it had more of a rainbow in its flashes and wasn't so transparent at certain angles.
Things I like:
* the shape; I love the way the oval shape looks on my finger.
* the story; my husband and I both are in love with the idea of an antique ring and are intrigued with it being so old!
* the cut; it's unique and not the typical brilliant cut. I love how it also stands out alone from the halo.
Things I don't like:
* the overall size; I like large rings but is it TOO large on my finger?
* worried that it doesn't "look" like a diamond, given the unique cut and large size.
* will the unique cut lose its charm over time and will its transparency and lack of colored flashes bother me long term?
If I were to send it back, I'm pretty certain at this point that I would have the same exact setting replicated just with a smaller center stone. But I'm afraid that by doing that, the ring will lose the charm that I love about it (especially the fact that it's 115 years old) and I will be unhappy with the typical brilliant oval in a typical brilliant halo - the look that I'm trying to avoid. The only other option for me would be the emerald cut, but I do love the oval shape on me much more.
I am the worst decision maker in general and I am absolutely agonizing over this! I've added pictures in all different lighting, but pictures truly don't do its beauty justice.