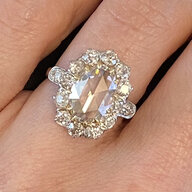 Joined

Mar 8, 2019
Messages

95
Hey everyone!
I figured I'd share some updated photos of my beautiful engagement ring. I never planned on getting a ring with a rose cut diamond, but after stumbling upon this breathtaking ring via Instagram, it was love at first sight! It's an Edwardian Era circa 1905 2.05 carat K VVS2, set in platinum topped 18k gold surrounded by a halo of 12 OECs with one on each shoulder. Initially I was worried about such a warm stone (I'm super color sensitive), but the color honestly isn't noticeable, it faces up very white. I was so surprised! The folks at Victor Barboné were fabulously responsive (and prompt) to all of my questions and I had my ring within 24 hours of purchasing it (shipped from NYC). I may also be getting a diamond band from them to wear on my right hand!
I had some trouble committing at first due to the unconventional cut and overall larger size than I was looking for (it faces up at a 2.5ct due to it being a rose cut so the finger coverage in a halo definitely commands attention on my size 4 finger), so I came here and posted on Rocky Talky looking for advice and had an overwhelming amount of positive feedback, as well as much appreciated guidance through my decision making process. (See that post with more photos
here
). Thank you again to everyone on here who helped make my choice a confident one, you guys rock!
The photos/video really don't do it justice, it shimmers & sparkles endlessly in person! I feel so lucky to own such a beautiful piece of history. This has definitely sparked a newfound love for antique jewelry.
After making my decision to keep it, I ended up having it restored a by a jeweler in my city who specializes in restoring antique jewelry. Some of the stones in the halo were a bit loose & uneven, as the metal wore away over the last 115 years. He did a phenomenal job! I was so worried and didn't know what to expect, I really didn't want to take away the charm of it's imperfections but he just enhanced its beauty perfectly. It's refreshed & extra sparkly now, while still holding onto all of its original charm that I fell in love with
The first photo is the one that I first came across on VBs Instagram and the rest were taken after the restoration.
This video uploaded a bit blurry, but you can see it sparkle
here