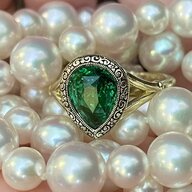 Joined

Mar 2, 2009
Messages

12,638
Date:

4/16/2009 5:32:19 PM

Author:

fabienne

Hello ladies!

I just wanted to revivie this thread and find out how everyone''s projects are going?

I noticed everyone is into gems here but I pretty much just like diamonds, which is a new obsession for me btw. Can I post my ideas in this thread? I don''t really have that would qualify now that I think of it.

I do have one idea requiring sapphires but I have no idea where I want to start. Maybe you guys could help me. I haven''t spent much time in this forum so perhaps I need to look around for some inspiration.

Linda W

...what are those in your avatar?
If you need help with sapphires, pop into the colored stone forum, lots of experts over there
Linda''s avatar is showing off some of her lovely padparadscha sapphires
I''m currently in the middle of a pad project myself (my pad is my avatar), I"m just waiting for my setting to arrive!