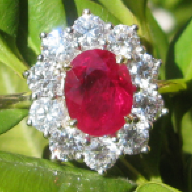 Joined

Aug 15, 2004
Messages

5,537
Okay, Whitby and I have decided we need to have a place we can talk about the excessive numbers of projects we have in the pipeline without scaring the newbies or getting in the way of legitimate quests for info in Rocky Talk or to detract from the new beauties posted in Show Me the Ring.
So, let me start by saying, "Hello! My name is Uppy, and I''m a sparkly addict." I have some compelling need to adopt any beautiful vintage diamond and give it a loving home. This means that at any given time I have multiple loose stones in my possession and uncompleted projects in the works. I seriously need an intervention!
I think each project needs it''s own post, so I''m not going to stuff this one full of everything that''s brewing in my loopy brain right now, but I will give the specs on my first start to finish design project.
About a year ago I started a quest to find a vintage five stone band that would give nice coverage to my sausagy size 8 fingers. I searched ebay to no avail. Rings were either too small in carat weight, too beat up looking, or waaaay to expensive! So I started collecting loose stones, all oecs between .25 and .40 carats found from various vendors on ebay. Pretty soon I had five (okay, more than five) stones that complimented each other nicely, so I started searching for mountings. I didn''t think I''d have a difficult time finding a vintage style mount that would put the stones front and center, but I was wrong. I had my local jeweler order a couple of Stuller mounts, but they didn''t make my heart sing for one reason or another.
At this time Wink Jones also announced that he had a new bench jeweler that he was working with who had the chops to create some beautiful new designs. In order to see what they could do, he offered a special discount to the first few people who would commit to designing and following through with a piece from this bench. I stepped up to the plate.
What followed was a series of CAD designs, which were then tweaked, and then a relatively short but anxious wait for the final product. I was inspired by a stock piece from Stuller, but had it modified with the intent that the yellow gold "grow vines which curled up and embraced the stones." I''m attaching links to the process.
In the end, I love the piece, and highly recommend Wink Jones as a wonderfully easy person to work with!
THREAD: Please help me pick my five stone setting
THREAD: CADs for my entry into the five stone club
THREAD: Upgradable''s OEC Five Stone Ring w/ PICTURES