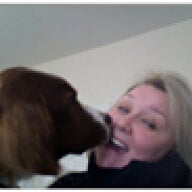 Joined

Jan 5, 2009
Messages

2,655
te:[/b] 3/9/2009 2:28:39 PM
The spinel will be set as a ring, but it''s so new that I don''t have a design for it. The earrings will have a round tsavorite, followed by marquise diamonds set at different angles, and will end with a cushion tsavorite.
Are yours rambunctious? Are they related? Do they have distinct personalities? I could talk about dogs forever... [/quote]
those earrings sound amazing! how wonderful! do you have a time frame on them? are they already in the pipeline or are they a future project? wil look forward to seeing pics one day, either way
the dogs are...assertive. lol a photo of one is in my avatar - as you can see, he doesnt like being left out of *any* thing! they have VERY distinct personalities; by all means, harriet, start a thread in the pricescope cafe, and i''ll chat dogs with you ad infinitum!! (and i mean - really!!)
i appreciate my jewelry - but i love my dogs.