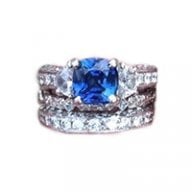 Joined

Oct 11, 2011
Messages

5,460
Call me crazy but I like the pendant, have you tried cleaning it up and putting it on a chain?
I can't take the little string crap off until I'm sure I don't want to return it, and I was waaaay too post-Thanksgiving lazy today to figure out if I could just, like, hold the diamond part in the ultrasonic, lol. I imagine I'll be more motivated to try in the coming days.
The pendant is nowhere near as weird irl as it looked on the pictures.