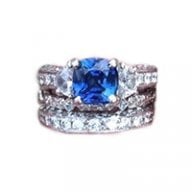 Joined

Oct 11, 2011
Messages

5,449
I just bought a pair of approx 1.1 ct OECs that are allegedly J-K VS2-Si1. The pics were ok and there was no lab report so it was a bit of a leap of faith purchase. Return policy is decent (two weeks) and it's a website I trust and have bought from/returned to before and I've found their written descriptions accurate on previous purchases. I'll have to get them appraised to make sure the stats are in line with what they were advertised as, but if they are and they look as nice as I think the cut will be, they're my Christmas present.

I'm just really nervous because these are the biggest diamonds I've ever bought. I wouldn't worry if I had spent this much on a sapphire or something but just the idea of it being diamonds is tripping me out.

I have two ideas for what to do with them - I've always wanted a diamond pendant somewhere around 1-1.2 cts, and I had never been able to decide between an AVC or OEC, and I've also always wanted a toi et moi ring with two OEC diamonds of 1 ct or so each (ridiculously decadent, I know!). Though I've now been thinking maybe I could do a toi et moi ring with one of the diamonds and a colored stone, or a vertical three-stone "stoplight" style ring with red and blue gems like I've been liking lately. So. I don't know. I have ideas though and these diamonds were the target size for all of the ideas, and a good price so - I'm crossing my fingers that it will work out the way I'm hoping. I don't want to get too attached to any of the ideas in case I end up returning - though if I do that I may just bite the bullet and get an AVC for a pendant since I really want to upgrade my solitaire pendant size from 0.3, lol.

Just posting because I have the purchase anxiety and I couldn't post before I bought them because there was no way to put them on hold.