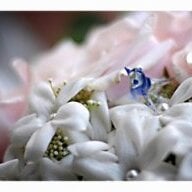 Joined

Oct 12, 2006
Messages

527
Goodmorning everyone!!!

Yesterday was a great day back on track for me (I didnt make it to the gym on Tuesday, due to a dinner party.. ughh.. which was amazing food wise.. but not so good for my weight!! Can anyone say KING CAKE?.. yum)

So back on track on Wed.

Breakfast: 2% milkfat cottage cheese, 4oz. - 2 pts.
Lunch: CousCous salad (I''ll post my recipe.. its gotten rave reviews!!) - 5 pts.
Snack: South Beach Peanut Butter bar - 3 pts. (I dont usually eat protein/snack bars.. but today.. I needed the energy - see Workout below!)
Dinner: 8oz marinated beef tenderloin, trimmed of all fat, 1.5cups of balsamic veggies (again.. I''ll post the recipe!) - 11pts
Snack: total splurge, but not too bad.. 1 piece of Belgian dark chocolate (I have a coworker who went to Belgium for xmas..) yummy. - 4pts.

Workout: 1 hour pump class (aerobics and body sculpting combined) and 1 hour spin class... (ugghhhh.. now you can see why I needed the protein/snack bar. Earned 15 fitness points. I think that much cardio back to back is a little too tiring.. so I might give up the double classes on Wed. and only do doubles on Monday from now on! its all trial and error right?

Total Weight Watchers points: 25pts. I only used 3 of my fitness pts. wooohooo...

Skippy123: wooohooo another Weight Watchers girl!! so excited to see you here.

My weigh in day is Monday.. so this coming Monday, I will start all the measurements and report back!

Today should be a great day too... I''ve got breakfast and lunch lined up to be pretty healthy.. and its a great cardio day at the gym. I''m going to try and do 3 miles on the treadmill and 20 min. of abs (my fave!!!)

Good work to everyone this week so far. Sounds like everyone is right on track!!! Keep going!! Stay focused!!!