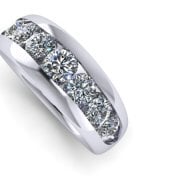 Joined

Dec 28, 2005
Messages

4,097
Date: 1/26/2007 2:31:11 PM
Author: Becky P
Hey Rod - What''s ya''lls favorite sushi place in Raleigh? I thought it was Sushi Blues, but you mentioned that it''s your second favorite. I''m a huge sushi fan and we''ll be out visiting Raleigh again soon, so I''d like to check it out!!
Hey Becky

Our favorite Sushi restaurant HANDS DOWN is Mura at North Hills. It''s urban, hip, cool and has just about the best Sushi we''ve had anywhere. If you go to Mura, you must ask for a Screaming Orgasm (new and not yet on the menu - but is orgasmic!) Actually, Sushi Blues is good, but Waraji is better than Sushi Blues, so I guess the ranking in our book at least is: Mura at North Hills; Waraji on Duraleigh and Glenwood; Sushi Blues Cafe on Glenwood South. Not that any of them are not good, but Mura is just excpetional. We have found some great things at Waraji, but they''re not necessarily on the menu. We found out they have rolls that are really good, but you have to know in advance about them. It took us a couple visits before our server clued us in on the secret. Finally, Sushi Blues is also good, but the service is very either really good, or really bad. And the Tempura is not so great (we do enjoy Shrimp Tempura as an appetizer). I will say that Sushi Blues has one exceptional roll and that''s the Lobster roll. It''s a pricey roll at $13.95, but it''s terrific. The real advantage to Sushi Blues is it''s location. It''s in the trendy Glenwood Avenue South area, which just happens to be2 blocks from where our new condo is located. Hope this helps!