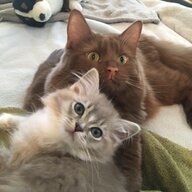 Joined

Jul 12, 2015
Messages

1,076
I hope this finds you all well and enjoying the first day of the New Year!! I also want to thank each of you who chimed in with advice about my "cushion conundrum" several months ago. Your advice was incredibly helpful, and as promised, I am back with one heck of an update!!
The backstory: Last year I fell head over heels in love with newly cut antique cushions, and I happened upon a 2.7 ct CAC that I just could not live without. This was basically my birthday/Christmas/anniversary gift all rolled into one! In thinking toward this project I knew that I wanted to work with Victor, and as other PS members will attest, he is an absolute joy, a perfectionist, and so incredibly patient. His craftsmanship is perfection, and I cannot recommend him highly enough!
After deliberating among several setting choices, I finally decided that Victor's vintage French cut halo setting would best showcase the elongated shape of this CAC. I became enamored with the French cut halo design based on the photos and the description, but I must say that even all of my online ogling did not prepare me for the beauty that greeted my eyes when I saw this masterpiece in real life...
When I opened the box I literally gasped! I never knew a halo could be so utterly gorgeous (or look so huge!

). Despite the size of the ring it feels lighter than air and it is so delicate on my finger that I would hardly even know I was wearing it if it wasn't for its blinding brilliance!

I truly adore each intricate detail… the bezel, the precision millgrain, the airline halo, the single cuts adorning the shoulders, the intricate fleur-de-lis profile… each element of the design is immaculate and I am in complete awe! This beauty is an exceptional work of art and I find myself constantly staring at it. It is quite literally the most gorgeous ring I have ever seen, and I am still pinching myself that I get to wear it!
So to say that I am thrilled with the ring would be the most egregious understatement of the New Year… up until now I have not considered myself to be a halo girl, but I consider this ring to be a phenomenon in its own right, and it has changed my opinion of halos forever. It is incredible in every way, and I seriously cannot stop staring at it! Although I am still adjusting to the incredible finger coverage, the graceful design of this setting provides a balancing force, and (to my surprise) I really don't find the ring to be overpowering at all. I wouldn't change a single thing! However, I must confess that every time I glance down at it I have to catch my breath just a bit! It is truly spectacular and most enchanting, and it has certainly transformed my experience of even the most mundane tasks… they seem quite enjoyable all of a sudden!
I cannot say enough about this ring, which is beautiful beyond belief, and seems to grow more exquisite every time I put it on! It is safe to say that Victor has converted me to a halo girl!

My amateur photos honestly do this beauty minimal justice, but hopefully they will give you a glimpse of this amazing ring. I took all of these on cloudy/rainy/dreary days, so the lighting wasn't optimal, yet the CAC nevertheless sparkled like crazy! I seriously love this ring.

So if you are considering a VC halo (or any VC design for that matter!), ponder no more… Victor seriously hits it out of the park every single time!!
Up first, the jaw-dropping glamour shots that Victor sent me, which literally took my breath away:
**edited, please follow policies regarding logos**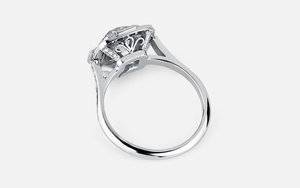 Last edited by a moderator: