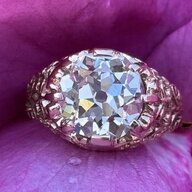 Joined

Jul 10, 2012
Messages

602
So here's the deal. Part of me is slightly embarrassed to be revealing yet
another
setting in this forum. That said, who am I kidding - there is no WAY I would be able to resist sharing my new dream setting with all of you who have supported me so much throughout this crazy reset journey!

I'll spare you the back story - you can read the update in my last thread - but I finally listened to my gut, and I am now the extremely ecstatic owner of a cushion Emilya halo with single cut pave by
Victor Canera
(the setting that I originally wanted).
Let me tell you, this ring is ridiculously gorgeous, and I seriously cannot stop looking at it!!! Victor suggested that I add a row of pave to the profile of the halo, and I couldn't be happier with this decision. The setting is still extremely delicate (which is often forgotten with all of these macro shots that we all love so much), and it just sparkles from every angle. I definitely wanted to go with a pave donut, so I had Victor make a custom spacer as well. The plan is to order a matching pave eternity band as soon as my bank account recovers from the abuse I've put it through lately.

A recap on the stone - 2.4ct (8.75mm)/OEC recut/H/SI2. And now...onto the pics. Brace yourself - I went crazy once again!

I'll begin with the two pro shots that Victor provided, along with a picture of the box (which is extremely nice, BTW).