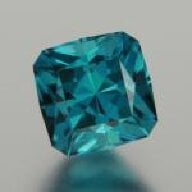 Joined

Jan 18, 2008
Messages

9,758
Yay, my first "proper" coloured gem purchase, and I *love* it

Specs are as follows, from Dan Stair:
STONE: Tourmaline
WEIGHT: 1.34 Cts.
CUT: Modified Round Brilliant
DIMENSIONS: 6.85 mm
ORIGIN: Afghanistan
COLOR: Yellowish Mint Green
CLARITY: Very Good++ (Eye Clean, Nearly Flawless)
Its a perfectly minty colour in person, just as Dan described it (who BTW is a doll to work with).
I desperatly need some tools, as I''ve already gotten it filthy and dropped it a couple times

- which leads me to my Q, any advice on care for/cleaning of tourmalines?
Pics!
First, outside in arvo sunlight, next to tree..