Joined

Jan 19, 2013
Messages

1,150
I had posted my new 1.71ct M color MRB earlier this year and while I absolutely loved it, DSS didn't take long to begin whispering in my ear: "Go bigger!"
Not only did I wish for a larger stone, I was also hoping to find an upgrade to one that would offer a smaller table and higher crown.
I had contemplated trading in my
JA
stone to get a super ideal, however, even with a generous trade-in offer, I wouldn't get nearly the size I wanted to achieve. So, I figured I would just wait -- I didn't *need* a new stone after all. However, a few weeks ago an interesting stone popped up in JAs inventory. It was a 2.31ct K VS1 and was substantially lower in price than anything else with similar specs. I thought surely something must be wrong with the stone... but no, there wasn't. It had the right proportions - slightly deeper than PSers recommended, but was still a 8.47mm round. It had 35.5/40.6 proportions -- the higher crown I wanted, and a 56% table. The icing on the cake was medium blue fluoro, which was another feature I was hoping to find.
So I decided to bite the bullet and order an
idealscope
. Since the stone was overseas, I had to wait a few days. Once it arrived, I knew I had to see it in person. It was a fireball!
I was in love... and knew it was upgrade time.
The upgrade process was quite easy and straightforward. Too easy.

I sent the new stone back to
JA
, along with my ring. I had enjoyed the current setting so I asked to see if they could just modify it to accommodate the new stone. As it turns out,
JA
remade the ring all together and the modification fee was negligible. I finally received it just this week... I. am. in. LOVE!
If you've read through all of this, I owe you some pics...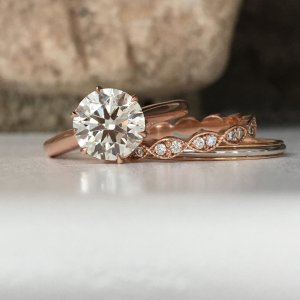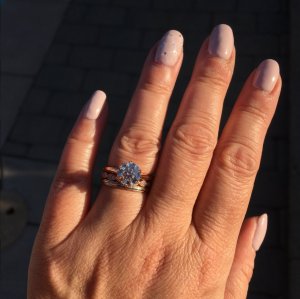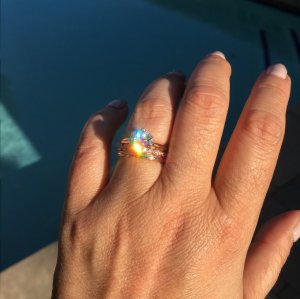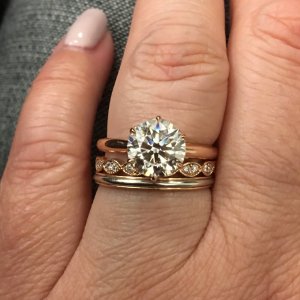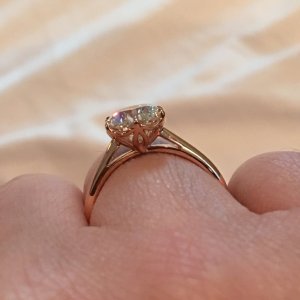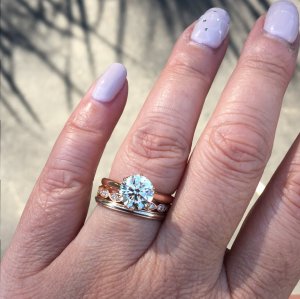 I am working on a possible reset design with David Klass, but not in any rush...
JA
did a good job with this setting and I may enjoy it for a while. In the meantime, I'm hoping DSS will be in check while I enjoy this new stone!