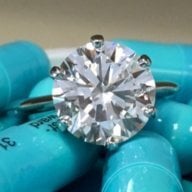 Joined

Dec 3, 2011
Messages

9,768
Colour is a REALLY subjective thing some people actually don't notice it much at all and all some people see is the colour..... so honestly you have to work out what she or you can or can't live with first colourwise and go from there on the size versus budget....

Most people start noticing colour around a J/K however some people really notice it at around an I and a small number of people notice it at a H..... and then there are those that unless the stone is overly yellow or tinted don't notice it at all.
I agree with arkie... she needs to see GIA diamonds of around the same size in I/J/K colors to know for sure. And NOT UNDER THE JEWELER'S LIGHTS - under regular bulbs and sunlight if possible.
On color... Personally, I am not very color sensitive. I have a 3.33 ct I, and it looks white enough for me. I had a 2.43 J before, and it would've been too tinted for me in a solitaire (it was set in a halo, so faced up white enough). I wouldn't go below J, unless she has seen it with her eyes and is good with it - esp since there's no upgrade in the future.
ETA: color is more saturated in larger stones, so a 1ct J may be totally white enough for her... hell, a K could as well! But she needs to see it.