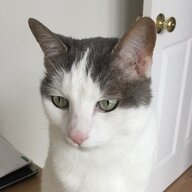 Joined

Feb 8, 2016
Messages

179
I wanted to share my custom setting experience here because all the posts I found on PS were so helpful during these few months. Thanks guys!
Sorry for the long post. Skip down for the part about SK.
For our anniversary, DH wanted me to have the engagement ring he couldn't afford when we were new grads. We spent months shopping and researching, and in the end, it paid off because I am
ECSTATIC
with my
Whiteflash
ACA
!
For those interested in how different diamond vendors compared, please see my other post:
https://www.pricescope.com/community/threads/useful-tips-for-1st-timers-recent-experience.219666/
After finding my center stone, I knew I wanted a solitaire setting but even then, there were so many designers and 4 prong or 6 prong?? My advice if you're in the same dilemma is don't go off photos alone. Find a local retailer and try it on. You can't tell depth properly in photos and that might be a dealbreaker. Some designs I considered were Vatche charis and venus,
Brian Gavin
grace, Tiffany six prong, and Mark Morrell torchiere.
In the end, I chose the grace design for its security and simplicity. It's a four prong basket on a half-round band. Local stores often had some variation of this setting to try on, but the quality was visibly off. i.e. weak soldering points, pre-made basket was too small resulting in the diamond sitting too high. So I decided to go for a custom setting.
My Steven Kirsch Experience
I asked for quotes from Steven Kirsch and
Victor Canera
. (I didn't ask LM and MM for specific reasons.) Steven gave me a very fair price for custom work, compared to local stores. Victor's rep flat out rejected my business because I wanted certain dimensions like band width. I think if you're paying for a custom piece, you'd better be able to specify things you care about, especially if you're working over the internet, vague adjectives like "thin" don't cut it IMO.
So I went ahead with Steven, going off of one photo and a few dimensions and preferences. He was always extremely responsive to emails, which surprised me a little because I'm sure he gets emails all day from finicky people like me. Yet he was always patient and professional. I shipped the diamond to him and he received it no problems. He also had his own insurance for the diamond while it was in his possession, unlike VC. He finished the ring within the time promised and DH went with me to pick it up in person. When I saw the ring, I was thrilled! The fit was perfect, all the dimensions I requested were made SO VERY precisely, and it was exactly how I envisioned it. The attention to detail was truly remarkable. All the prongs were equidistant, uniform, and fit the diamond like a glove.
If you need a quality piece in platinum, this is the guy to go to.
One of the features I had to have was a low profile (for work). I had no specific height in mind, but asked for "low as possible" thinking of what I've seen at most jewelry stores. Well, he was able to get it really low, which suits me perfectly. But keep in mind when you say low, it will probably be lower than you've seen elsewhere. He'll also tell you the height in mm. Just make sure you visualize it.
In case you're wondering if the basket reduced any of the diamond's brilliance, it did not. It sparkles just like any loose
ACA
diamond. Here is my 1.59ct F VS2
ACA
with solitaire setting by Steven Kirsch.