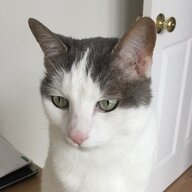 Joined

Feb 8, 2016
Messages

179
Here are some things I REALLY wish I had known from the beginning of my three-month long diamond shopping experience. Hope it helps out any first timers.

Disclaimer

If you are flexible and just want a fairly nice looking diamond, these tips are probably not for you. If you won't settle for anything but the best your money can buy, read on. P.S. This is written from a woman's perspective (my ring was for an anniversary not a first time proposal).

My criteria:

Carat: 1.5 - 1.7 round brilliant

Color: D - F

Clarity: VVS2 (I later dropped this to VS2 - SI1 after seeing how invisible the inclusions were with my own eyes.)

Cut: GIA Triple Excellent or AGS Ideal

In-depth guides with responsive authors

Most websites will give you the same basic 4C's info without getting technical enough for you to make an informed decision. After reading the guides on these two sites, you'll be more educated about diamond grading than the average brick-and-mortar salesperson, and you'll be able to tell if one diamond online will end up looking much better than another without seeing the actual stones.

Good Old Gold

- Rhino's School of Rock

http://www.goodoldgold.com/diamonds-thebasics.html Prosumer Diamonds http://www.prosumerdiamonds.com

(Start in the Tutorials section.)

Video guides

These two Youtube channels have excellent videos showing you up close how diamonds of different specs compare side by side. Ever wondered what is the big deal about cut? Did you know within the highest grade of cut there is still a large range of sparkle varying from "not bad" to "wowza!"? Watch these videos!

Good Old Gold

on Youtube

https://www.youtube.com/user/DiamondInfoMan Jannpaul JP

on Youtube

https://www.youtube.com/playlist?list=PLUhkL4hNsGwJ0ezL-V3u2ywWm6gcpKjaq Vendors Brick and mortar

- When I first started out, I thought it would be too risky to buy online. I visited half a dozen of the most highly rated stores in a major metropolitan area but none of them had anything close to the ideal ones available online. Some of these stores were very high end ($$$$ on yelp) but not ridiculously overpriced like Tiffany or Cartier. Still when I asked for a diamond with my criteria, they would try to pawn off what they had, which usually was a diamond that barely made ideal grade. After reading the above guides, you will know. Then if they thought you looked really interested, they might bring in two more stones from an outside source and these will still not be top of the line ideal, which you can get for the same price online.

Moral of the story: shop online.

Blue Nile

- Do you like to gamble? Odds are, though, you're going to end up with the same mediocre quality as in local shops. After I read about Tolkowsky ideals and the different types of inclusions, and HCA, I picked a diamond on

Blue Nile

based on certificate only. I thought I was being smart, checking all the %'s and angles and inclusion maps. I made sure all the numbers were within the most ideal range, but when I saw the actual diamond, it was underwhelming. The problem is numbers on certificates are rounded and averaged, and

Blue Nile

doesn't have its experts in the US verify each diamond before it gets sent to you. For the quality you get, their pricing is actually NOT cheaper than local stores. Good thing they have a nice return policy, which I promptly used.

James Allen

- This is the first site I came across that had a large selection with good value. The great thing about their site is they have a high-res video of each diamond 360 degrees and in higher magnification than you would see with a typical loupe. You'll be able to see if you're okay with the inclusions very clearly. They're a step above

Blue Nile

, but overall I felt the standards for their best diamonds was not quite as high as the sites below.

Good Old Gold

- They're not afraid to teach you about every aspect of a diamond because they offer some of the best ones. They run their own analysis of each diamond to confirm the specs on the lab certificate. Then they show you magnified photos and scope images. --scope images, you say? Yes, this is a more reliable way to tell how a diamond will look in most lighting rather than judging with your naked eyes under jewelry store lighting. For a shortcut to the best of their ideal grade diamonds, look in their Ascendancy Hearts and Arrows selection. You'll find the price is comparable to brick and mortar but so much better quality. If you have a little flexibility, their Platinum Select is also a good value for near top of the line ideal.

Whiteflash

- This is a site that you should be checking often. They have a large virtual inventory, but you want to pay attention to their A Cut Above and Expert Selection diamonds. At first, I thought they had a small selection but later I noticed that was because the good ones kept getting bought out. Like

Good Old Gold

, they have a full comprehensive analysis (certificate, independent report, scope images) of each diamond along with a video of the actual stone. Their best diamonds are called A Cut Above. This is where I found mine and quite a few that I was considering got sold while I was learning how to choose diamonds.

Brian Gavin

(see below) used to be with this company and left a legacy of high standards here, so shop with confidence!

Brian Gavin

Diamonds

- Ok, so Brian is apparently this master diamond cutter. Even people unrelated to his company were telling me if you want the absolute best cut, you can't lose with

Brian Gavin

. Looking at his selection, I have to agree, but of course, it comes with a price. Still way better value than Tiffany or Cartier though. If you want to skip the shopping around and it's within your budget, you'll definitely get a super ideal cut diamond here. I don't think he even sells anything less than ideal cut. Every last diamond has an image with full blown hearts and arrows.