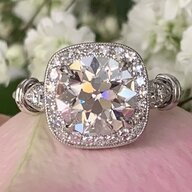 Joined

Jan 11, 2006
Messages

55,537
DS, will you wear these as your everyday staple now? or will you alternate with your solitaires?
I'll still wear my studs more. I'll wear these when I am slightly more dressed up than my normal daily ultra-causal attire!
@diamondseeker2006

!! How absolutely gorgeous! Love these pieces so much. What a wonderful Xmas and anniversary gift! I wish you health and happiness as you enjoy this amazing set. <3
Thanks so much, junebug! I know I am going to enjoy these so much!
Thanks to all who commented or liked my post! I am glad we share a love for these beautiful VCA jewels!