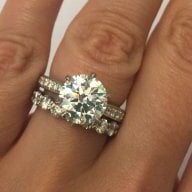 Joined

Apr 28, 2014
Messages

3,689
I love everyone's pieces!! My hubby surprised me for Xmas w the gold and onyx bracelet. I went in to have the links taken out and then I saw the blue agate and was in turmoil! I LOVE that one! However, I did choose to stick w the black, as it is my first of the bracelets and figured I could match everything w it (and I love how my husband picked it out). The blue will be my next purchase! I do have the necklace but in MOP and was wondering if I should match it but I do just love the black. PS. I'm not wearing it w my Cartier Love - as it keeps getting caught underneath. For photos - I took it w it so I could use my right hand.
It looks gorgeous on you!!!
If you don't mind me asking, how many links did you get removed? I just got mine back yesterday and they removed 4 (and only between 2 motifs) but I'm thinking I might want 4 more removed so it doesn't hang as low on my hand and so the motifs are equally spaced.