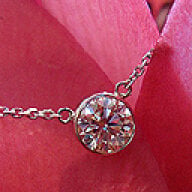 Joined

Oct 30, 2002
Messages

31,003
I''ve drooled over everyone''s beautiful sets since this part of the forum was created. It seems as though lately the trend has been more towards eternity style wedding sets and/or rings than ever! In the past it was mostly only Michael B that people knew about...but lately it has been more

Ritani

, Scott Kay, A Jaffe, Signed Pieces, etc. and there are alot more options than when I was looking for my set 2+ years ago.

I''d love to have all of the images in one place, that way the next time someone asks ''does anyone know of a matching eternity ring set other than Michael B'' or something along those lines, we can just point them here rather than me having to search my hard drive for those saved images, and oh yes I do have them!



And I''ll admit it, I really just want to see more eye candy that is similar to mine. Lately there have been alot of postings, so please put your images here as well. Please post a shot of both the rings themselves, and an ''on the hand'' shot if available. Please also post your stone and ring specs as well as any other info you have (aka if it was custom, the designer etc).

I think it''s also appropriate to post settings like the A.Jaffe pave bands that aren''t eternity, but from the top down look like it...because it''s a great alternative to eternity if you don''t want to break the bank, but want that thin band and diamond pave look.
Lastly, one note..if you have posted your images elsewhere on Pscope...you may have to rename them to post them on this thread, as PS does not like duplicate names on the server, so try adding an ''a'' or ''1'' etc to the images to change the name just slightly, then try to repost if you get errors.
Have fun! I have to go find my images and rename them now!