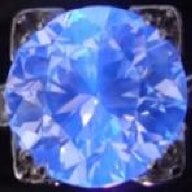 Joined

Apr 26, 2007
Messages

8,087
... thread? If there's a thread on this topic already out there, point me in the right direction! And if not, shall we start one? I've been getting obsessed with the gigantic* eternities lately, and I want to see a little temptation!

*How to define "gigantic?" I dunno. I've heard the rule** that an eternity band should usually match the carat weight of the center stone ... so if you have an eternity that outweighs either your center stone or what you think of as the "standard" in terms of TCW (I know some of you ladies are rocking the skating-rink-sized solitaires), give it a little spotlight here!

** I think this rule, and for that matter, most rules concerning jewelry, are bunk, but the arbitrary cut-off of 1, 2, 3 carats or what-have-you just didn't seem like that much fun.