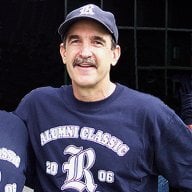 Joined

Jul 27, 2009
Messages

3,124
I'll just have to say this- as he won't respond- I don't believe Bryan was or is a diamond buyer or grader.
That doesn't invalidate his or your ideas- but for all those reading we need to put this in context.
I am not sure if
@Rockdiamond
is trying to push my buttons or what. It seems he feels a great need for me to respond to him, even though he has been issuing exactly the same statements for years and I have many times responded to him. I am not intentionally ignoring him but if his statements aren't additive because of redundancy or other reasons, I no longer feel the need to respond for the sake of responding. That just tends to grow the thread so long that it gets watered down and turns people off.
But for the record, I have been working in the jewelry industry for over 40 years. For almost 30 of those years I was a sole proprietor. The first part of my career was in the colored gem business and I travelled overseas regularly to buy rough and cut gemstones (I have a decent eye for color). My specialties were East African gemstones and unheated sapphires from Sri Lanka. Later in my career I was pulled into the diamond business where again, I bought my own diamonds for my operation. Over the course of my career I also became a GIA Graduate Gemologist and an AGS Certified Gemologist.
In 1999 I was recruited by the first publicly traded, pure play internet seller of luxury goods (Ashford.com) and was Operations Manager of the Diamond Division up until and through the transition of the sale of Ashford to Diamond.com. In the first year or so at Ashford we were buying and stocking all of our diamonds (tens of millions$), a process I was obviously intimately involved in. In the year 2000 the 'tech bubble' burst and we had to find a way to sell diamonds without buying and stocking them. We pioneered the concept of virtual inventory, which involved developing the information/ web technology and vendor cooperation necessary to offer tens of thousands of deliverable diamonds on our website. (As an aside, during the early years, Blue Nile was actively trying to get acquired by Ashford.)
After my stint at Ashford I started my own internet company (gemdiamond.com) where I combined my interests in gems, pearls, diamonds and fine jewelry with departments for each product. It just so happened that I was operating out of the same jewelry building as Whiteflash so I knew the principals, and was following their work as they were following mine. Because of the synergies Whiteflash acquired Gemdiamond in 2009 and I joined the leadership team. While we ran both websites initially, it became clear that we had limited bandwidth and decided to focus primarily on our in-house diamond business. For over ten years I have been the senior gemologist here at Whiteflash during which time we have produced and sold hundreds of millions of dollars worth of diamonds.
Sorry for the diversion, but I felt I should correct the record.
Last edited: