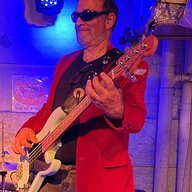 Joined

Jan 7, 2009
Messages

7,846
Hi everyone!
In a recent discussion a poster asked about a stone with fluorescence.
There's a lot of strong opinions on this and a comment was made that implied some participants were doing a disservice by recommending fl stones.

I very much disagree with that sentiment but I do find that this particular aspect of diamond assessment is both important and widely misunderstood.

Here's where I stand on this issue:
I won't ever make blanket statements about how fluorescence affects a particular diamond that I've never seen.

I heard an interesting joke that relates to this discussion.
A guy boarding a plane asks the captain-
"How often do planes crash?"
His answer-
"Usually about once"

My point is, statistics are not really important to any specific diamond. One strong blue might be a dud and the next a sparkler.
Plus, fluorescent diamonds use light in ways that is difficult if not impossible to capture on video or still photos.
So trying to asses remotely seems impossible.

To add to the "interesting" nature of this discussion is the fact that some of the tradespeople that participate don't agree on some basics such as what can "set off" a fluorescent diamond.
Even if we disagree on some of the specifics I'd bet Bryan and the majority of tradespeople would agree that in person, hands on assessment is the only reliable means of judging how fluorescence affects the majority of diamonds that possess this characteristic.

What's your thoughts, or questions?