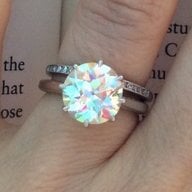 Joined

Dec 14, 2009
Messages

2,075
Kiwi, are you still within your return window?

Maybe ask Neil what he meant about sparkle v fire. In my uneducated way of thinking about things I think OECs have less fire than MRB because there are fewer facets so they have fewer flashes of fire, but the reflections are bigger and more colorful and sparkly. Perhaps that is what he was noting. Again, this is my way of explaining things and I have had no training whatsoever so see what he says. I'm just wondering if maybe it isn't a necessarily a negative and is noted as a detailed and thorough appraisal.

If you end up with this diamond I'm sure it is beautiful. I haven't bought from Grace, but do follow her site and she has a great eye. I almost bought once, but wasn't fast enough. You may get this diamond and love it. If not you can wear a beautiful diamond for awhile and consign it and purchase a different one on your next US trip. Not an ideal situation but given the extremly limited inventory where you live it is still a good outcome.