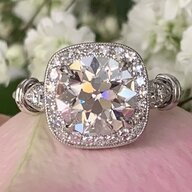 Joined

Jan 11, 2006
Messages

55,817
Okay, I am so indecisive when it comes to settings! I have the same dilemma EVERY time! Please just shoot me if I ever start over again! I do not have the new diamond yet because Jonathan is expecting one in that I want to see, so I am just pre-planning!
I LOVE my Vatche Tiffany repro and it would allow me to wear my current Legacy band plus allow me the option to add another such as a Victor Canera french cut band or the BK with sapphires. But extra bands involve a lot of money, and I am not sure I need to do that. I would miss having the Tiffany setting, though, because it is so simple and elegant and just shows off the diamond.
I have always loved the Van Craeynest 484 and how perfect it would be with an AVR or OEC!!! It would be an heirloom ring for sure! I am not sure that the matching band wouldn't be too much, plus it might rub against the design on the side. I would probably wear it alone some and sometimes with the Legacy band
Here are the two choices....the Vatche Tiffany and then the Van Craeynest....