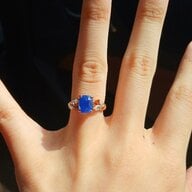 Joined

Jun 27, 2019
Messages

1,004
Cannot complain about the color. Clarity is the biggest issue. Although the ruby light return looks okay in these videos, you have to think about what it will be once set. Have you seen this stone in direct sunlight yet?
Checking with the seller right now!
The color to me looks smashing. I'm not a ruby expert by any means (I don't own any), nor am I a clarity snob…in fact I'm pretty unbothered by inclusions

To me the color and performance looks pretty dang good and the price is far more palatable compared to some of the other eye watering figures

I think you have to decide how comfortable you are with inclusions and making that concession. Are you looking to check a box with a fabulous Ruby or are you seeking perfection?
Ahhhh true true. I think rn hmmmm I'm a bit torn.
On one hand, I do like the color of this one a lot
On the other hand, I chatted with the seller of the vintage Boucheron ring who said she can do USD88500 as the lowest price which seems....fair? We did a call and from what I can see, the ruby is very clean and the color is very nice. Though to be honest, it did look a bit more pinkish red on camera but I'm not sure if that was just the camera lighting. The boucheron seller also said she's planning on exhibiting the ring at the Hong Kong Jewelry Show in September so I'm looking up tickets for that right now.