Well my wife is always on this site. She's the "expert", and I know nothing. Now I'm sneaking in requesting a little help, and a little short on time. I thought I could do some research and learn what I needed to make an informed and wise decision, but it's much harder than I anticipated.
Here are my loose parameters.
Blue sapphire, shape doesn't really matter, but I would like a heart shape first, then probably cushion or maybe a pear.
Budget $3000.
It probably doesn't matter if it's heated. I don't think she would care. She says cut matters the most but she's referring to diamonds I believe. I'm not sure if cut is most important in sapphires.
She loves her "projects", so I think a single stone is the best option. Plus, did I say I'm out of time??
I think I need a trusted vendor/AGL report before I drop $3000 on the internet and trusting you all to point me in the right direction.
Here's one that caught my eye. What do you think?
This one is a good bit over budget, but I can't find many hearts.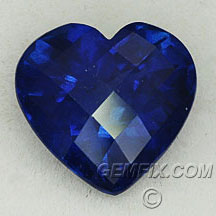 Natural Blue Sapphire Heart Shape Certified with Lab Report
gemfix.com
Thank you in advance for your help!
Jon