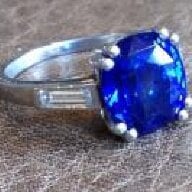 Joined

May 15, 2013
Messages

10,535
My journey started with a charming little ruby I
found at a jeweller here in Holland. Because
of the very high pricing I figured that I could
perhaps better explore other options.
A blue sapphire has always been high on
my list. On the day I had almost decided to
buy the little ruby anyway, I found this
sapphire at a local jeweller, specialized in
antique jewelry. It was love at first sight
although it looked rather dark in the very
poorly lit store.
I decided to further explore more options,
but although I found stones that had looked
better on paper (lighter, better cut, lower
Pricing) I kept getting back to this one. The
one I fell in love with immediately. There is
Something about the color that is just
mesmerizing.
It has been on a very long layaway plan and
the idea was to collect the ring in december
but as it turned out I could collect it earlier
and I couldn't have been happier!
The stone was already set in a platinum setting
from a local goldsmith. I planned to send the
stone to Victor , but the setting has really grown
on me. It has small baguette sidestones and the
setting has a very modern/classic architectural
feel about it. All parts feel logical and in place
and the baguettes fit in like glass in a modern
building.
Here is my newest addition to my colored stone
ring collection: