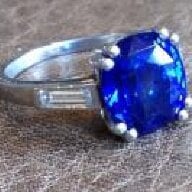 Joined

May 15, 2013
Messages

10,535
AH, that would be such fun
tourmaline
!!! I would love to play with your 5 carat honker. Are you still thrilled with your new setting and how do you combine it most of the time?
I so love the straight baguettes
travelgal
. So grateful I kept this setting as is...
Thank you for dropping by and your kind words
Jereni
.
Arkieb

. It's actually located in a very charming building. The store is very cute with a little stair to a higher level area. And it's dark everywhere
Thank you for loving my blue stone
hotpozzum
. I realise it was such a lucky find.
q8girl
: Junebug's ring is a true steam ring. It's so Royal and elegant. I love her ring too.

Thank you for visiting my thread
apacherose

. It's really weird to now have 2 rings in SMTB
. I have been so lucky with finding colored stones till sofar. I gained a bit more knowledge because of PS. The CS forum is very very inspiring
I had to laugh at myself when I made the pic: I was wearing a Chanel coat, carrying a Hermes bag and sporting a big OEC and a big sapphire on an old and battered bicycle... which is my main way of transportation since I do not have a car

When I saw the blue of the stone I knew that this was to become my signature RHR.
You are always so cheerful and nice. Thank you!!!
Hi Circe!!! In some lighting it indeed has a kind of glow. I am really not sure if it has fluorescence. Would be great to explore this.
I can really recommend choosing a sapphire

. It combines with everything and is very calming.
Thank you for liking the color of my stone
evangelineG
and
ckricket
. Wearing this ring sure is very distracting