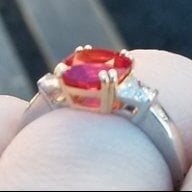 Joined

Nov 3, 2009
Messages

7,538
OK a historian's point of view.
Russia had its measure of horrible tzars, but Ivan the Terrible was the worst.
However, this cruel, sacral ruler had
one endearing trait.
He loved sapphires. Was addicted to them. I saw some stones from his collection. He'd play with them, look at them, they calmed him, too.
Why such a long prelude?
@Acinom
, if Ivan had the sapphire like yours, Novgorod, the free Russian city, could be saved from being destroyed. I am positive ))). Your stone would have the power.