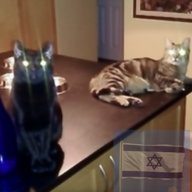 Joined

Jun 8, 2008
Messages

28,558
That face...omg...
Here's another for you
@Mamabean
and
@Iwanttosparkle
and anyone else who is following Oliver's development.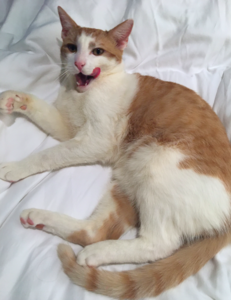 He is quite the terror to his brothers. We are letting him out a few hours each day under supervision and so far he likes to run after and hit his brothers who aren't defending themselves but running away and then hiding. Not a great start.
@missy

Sorry for the delay, I hadn't been on the forum in a few days. The antibiotics didn't agree with my digestive tract. I think I've turned the corner now.

Thank you for the photos

We were oohing & aahing over here. Fred looks so sweet lounging on his back. That's the life! We'd like to reach through the screen and rub his belly. My little boy has lots of allergies and asthma so we can't have cats. We are living vicariously through you! And all the kitten calendars that my daughters get. (Although I did read your posts about allergy shots helping your husband's allergies so maybe my son will be able to do that someday).

Still praying for the ringworm fungus to die and never come back!

P.S. I cant get over the persistence of that stuff. Do you remember in school when the teachers would say that in a post-nuclear war there would only be roaches left on earth? After reading what you have been through I now imagine it as roaches and ringworm spores :-/
Thank you for your continued good wishes. How are you feeling now
@Iwanttosparkle
? Hoping with each day you are feeling much better. I am sorry your little boy has so many allergies and if/when you are interested I can share what I know about immunotherapy. It really did wonders for Greg. He couldn't even be in a room with my family's animals for more than a short while without his throat closing up and him not being able to breathe and now no problem whatsoever. Anyway if I can ever be of any help please do not hesitate to ask.
Yes I remember that about roaches and the post nuclear survival and I have to agree RW would probably survive too. It's surreal in every way. And if we missed any areas in the house the cats will get it again. It's not a pleasant thought and we do have 2 rooms where the carpet has to be (safely) removed before we can open those rooms up again. RW is lurking in both those rooms and it is scary thinking about it.
We are still not RW free officially and there is a troubling area on Bobby's foot but praying it isn't RW. Please send collective prayers and good thoughts our cats way. Please let RW gate nightmare be over. Pretty pretty please.

Tommy and Oliver last night. Before the chasing and swiping (on Oliver's part) began.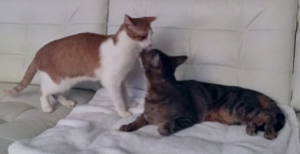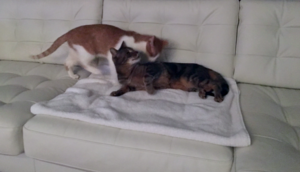 hello sweet little NYC/ NJ kitties
thinking of you
and sending sweet purrs back at you
Thank you
@Daisys and Diamonds
and hope all is going well with your furbabies.