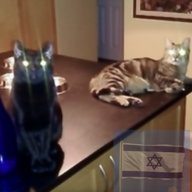 Joined

Jun 8, 2008
Messages

28,607
@missy

Fred is looking great! Wow, it's night and day compared to his earlier pictures where we were all afraid he was not going to make it! I'm so glad he seems to have perked up.

Oliver looks like he has naughtiness in his heart! (I have a soft spot for the mischievous ones!) Sounds like the older boys are going to have their work cut out for them!

Fingers crossed that ringwormgate is almost over! What a trial this has been!
Thank you
@cmd2014
! I hope you have gotten rid of the spot you had and that all is going well. You are so right. It has been quite the trial and until we get an all clear I cannot take a full breath. Trying to push back the worries. To date this has been the craziest and most challenging year for us. I am trying not to think too far ahead and just taking things one day at a time.
Tommy's blood work came back yesterday afternoon and his hyperthyroidism has gotten much worse in the past 18 weeks. We are giving him a very small dose of thyroid meds (2.5 mg twice a day) so probably will have to increase his dose but will wait til his follow up appointment with my sister in 3 weeks.Tommy isn't easy to pill and he has trouble eating the pill pockets (overbite prevents him from eating certain things easily) but this is nothing compared to RW.
And haha Oliver is very naughty. We let him out for an hour yesterday under supervision and he was chasing Tommy all over the place and hissing up a storm. Not Tommy but Oliver was hissing. And when I went to pick him up he hissed at me. We are going to continue introducing him a bit at a time. The problem is with the food since Oliver has no internal full signal it seems. With Fred and Bobby and Tommy I leave food out all day as Tommy and Fred take tiny bits of food throughout the day. Everyone pretty much respects the other's food. Not Oliver. So not sure how this is going to play out. I covered all the food when we let Oliver mingle last night but this is not sustainable or Fred and Tommy will fade away to zero lbs. Just another challenge we have to figure out.