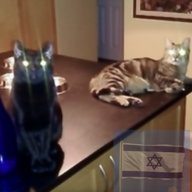 Joined

Jun 8, 2008
Messages

26,711
Does anyone have experience with ringworm in cats? Our sweet rescue Oliver might have it and we have no experience with this and would appreciate any real life experience.

What we do know:
They cultured the bald area yesterday late afternoon and we won't get the results for 10 days to 3 weeks.

We have 3 other cats that Oliver was playing with so they might very likely have it too but because of the long incubation period we just won't know for a while.

We are starting Oliver on Tresaderm topical in the affected areas while we wait for results.
It is a mild treatment but the vet doesn't want to start him on anything stronger til we have more info.

He was exposed to it at the rescue group so that also adds to the likelihood of it being ringworm.

We know it is highly contagious (to us and our other kitties) and we are disinfecting everything (washed everything in super hot water and have to bleach and vacuum etc today) and doing the best we can at keeping it contained though at this point it is like closing the barn door after the horses got out. To that end my sister said we might as well let him continue sleeping with us since he is crying pitifully when we keep him in his playpen confined. Last night we kept him in his playpen and it was upsetting with him crying and well he has been through so much. He had a very tough beginning being infected with herpes virus and getting a corneal ulcer which took 3 weeks to treat and he has had it tough.

That is why we were so happy last week when the vet said it was OK to let him meet our other cats. Fast forward to yeterday afternoon at his vaccination appointment when the vet found what she thinks is ringworm. Poor Oliver and poor other kitties in our house.

Anyway I am looking for real life experience to add to my very limited knowledge of ringworm. All that I just got yesterday reading about it as we never dealt with it before.

Thanks for getting this far and for any info. Much appreciated.