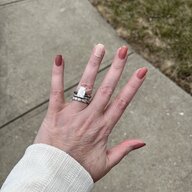 Joined

Apr 7, 2017
Messages

5,207
Thanks to
@Bostonberry
, I have been fortunate enough to create a new family heirloom piece with an OEC that has been locked away for years.
My mother inherited my Great-Aunt Nancy's ER, and used to wear it on her RH, up until a few years ago, when she had to stop wearing jewelry in a new facility for Memory Care Patients.
The ER was set in a yellow gold solitaire; simple & elegant. I wear white metals, so this ring has been locked away, and hidden for quite some time.
I recently stumbled across a listing by
@Bostonberry
advertising a beautiful 14k white gold semi mount with baguette side stones, and an empty 6 prong head, waiting for the perfect stone! I contacted Bostonberry, and made my purchase. The ring was perfect, and compliments my existing wedding set very well!
The semi mount arrived, last week, and I took both rings into my local jeweler to have my Great-Aunt's diamond set in the center of this gorgeous semi mount!
I learned that the Center stone of her solitaire is an OEC, dating back to the late 1800's. The stone is unpolished, the girdle is slightly abrated on the one side, and there are 3 small chips along the girdle. In spite of it all, the diamond is in amazing condition; the original 6 prong solitaire setting helped to preserve the diamond.
The jeweler showed me the stone under magnification, and I could see the broad facets, and the beautiful floral pattern in the center of the stone, under the small table, as well as a small culet. This OEC measures the distance in mm of a 0.75ct round.
Here are the estimated, uncertified stats of the OEC:
Old European Cut Diamond (circa 1880-1900)
0.80-0.90ct
G-I color
SI2-SI1 clarity (eye clean)
The stats of the semi mount, per Bostonberry:
Custom made in the Jewelry Building in Boston by her mother.
14k solid white gold (high quality)
0.27cttw tension set baguettes, and prong/bead set single cut diamonds
VS clarity
G/H color
The head was replaced in 14k WG to fit the estimated 0.75ct diamond. The 6 prong style was maintained to protect the OEC.
Size 5.5
This ring is, essentially, now a 3 stone ring. I named her "Nancy" after 3 amazing women in my family who bear that name: my Mother, my Grandmother, and my Great-Aunt.
Once again, I could never have done this without
@Bostonberry
, and I am eternally grateful that she was willing to part with this beauty, and allow me to love her as much as I do!
I intend to wear her as a RHR, or a travel ring, for now. I have decided to promise her to my son, when he is ready to get married. He's still young (18 years old), and college-bound, but it's important to prepare; life has a way of throwing curve balls.
He is not obligated to accept her, but she is his, if he so chooses. My daughter is promised most of my other pieces, so this one is meant for him. If he decides not to accept it, it will be passed to a granddaughter (Wishful thinking...lol!).
Until then, she is mine to enjoy, every day!!!
Without further ado, I proudly present...
"Nancy":
The Semi Mount upon arrival from Boston: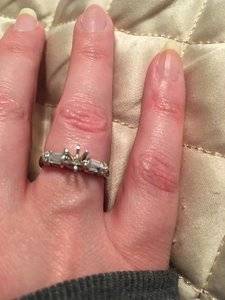 Great-Aunt Nancy's OEC solitaire photographed by the jeweler prior to setting the stone in the semi mount: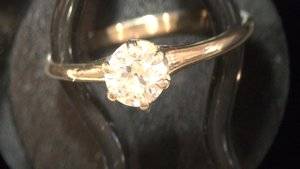 The Semi Mount photographed by the jeweler: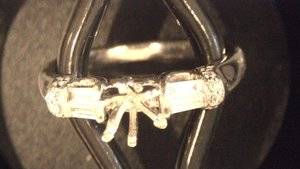 The finished 3 stone ring, "Nancy":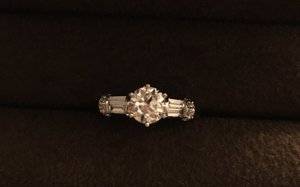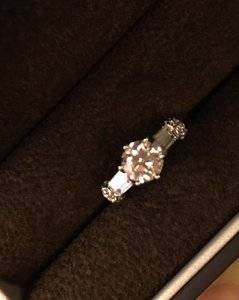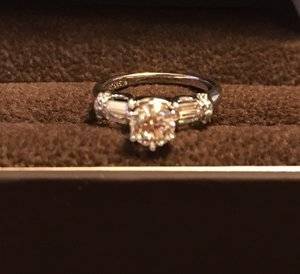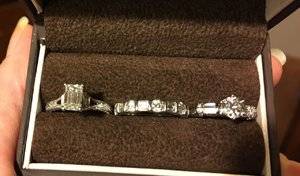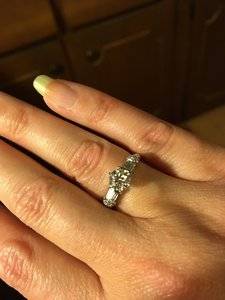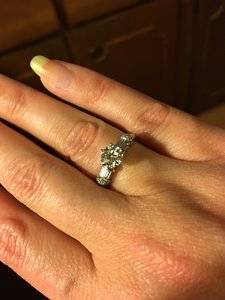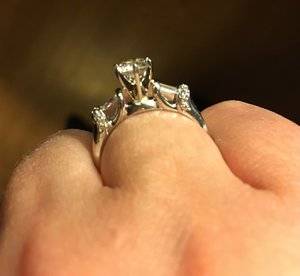 As expected, photos do not do her any justice; she is absolutely gorgeous! The flash, scintillation, and fire that comes off this baby just cannot be captured by an iPhone!!!
I couldn't be more pleased with her, and I'm so happy to give this beauty a home!!! I'm so proud to wear a ring that holds so much history, both, here in PA, and in Boston, as well! It feels so good to create something that has so much meaning; something that once was "old", and now is made "new"!! Something that will be passed down for generations!!
@Bostonberry
, if you're reading this, please send my love to your mother, and share this post with her! She's made this Pittsburgh Native one amazingly happy lady!!!
Love & hugs to you both!!!
...CRM...
Last edited: