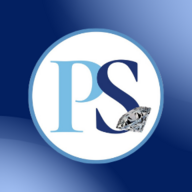 Brilliant_Rock
Staff member
Premium
Joined

Apr 19, 2008
Messages

1,426
Hello PriceScopers!
We have finished the major update of the forum platform. We tried to keep the colors the same to make it easier to adjust. Some features are a little different but should be much easier to use.
By clicking on your member name at the top right, it will take you to your accounts. There are several things you can change such as the avatar which are larger now. You should also check the privacy section.
Please use this thread for comments, questions and issues. We will try to get to them as soon as we can.
We appreciate everyone's patience.
Know Issue we are working on and may have workarounds:
1) Avatars Image:
a) Blurry avatars - We have increased the size of the avatar image. We ask you
- We have increased the size of Avatars and ask that you update them.
Go to your user account and click on "Personal Details" or click here:
https://www.pricescope.com/community/account/personal-details
Then click on the avatar itself and then drag and drop any image any size preferably square and higher than 200 x 200 pixels. You do not need to worry about size or anything. It will be adjusted automatically.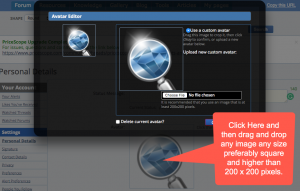 b) Avatars are too big on mobile.
- We are working on this and hope to resolve it soon.
--- This should be fixed. Let me know if anyone is still having issues.
2) Mobile has no way easy way to login/register
- We are working on a solution, but have temporarily added a notice to guests below the menu.
3) Breadcrumbs not easy to navigate or missing
a) No easy way to go to all thread view. - We are reworking the breadcrumb to show in all views and easier to use as well as mobile. In the meantime, here is a workaround on desktop.
-- I think we fixed this. We added a new bread crumb above and below. There seems to be a small issue with the menu overlay. If you see any other issues let us know.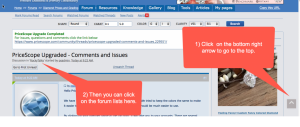 4) Right SideBar or diamond Search make it too busy for me.
a) You can choose to hide the sidebar or the diamond search in the "Personal Details" of your accounts setting. Just click the hide check marks next to it.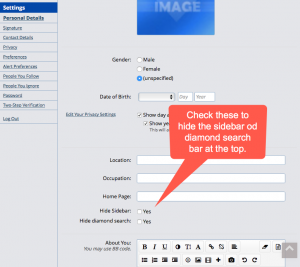 5) Attachment controls missing
a) We are working on it.
6) Ignore/Follow/Watch thread lists may have not survived.
a) Unfortunately, we will not be able to do anything about this and you will need to redo them
7) To many alerts.
a) The setting for all alerts is under "Your Alerts" in the account settings.
https://www.pricescope.com/community/account/alerts
Usernames (display names) v.s. Login names converted all names to back to login names. If you need any changes please contact us via the contact page here:
https://www.pricescope.com/contact
Let us know if you have any other questions or see any other issues.
Thank you for your patience
Last edited: