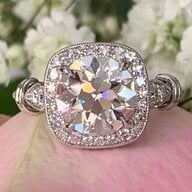 Joined

Jan 11, 2006
Messages

58,486
After coming to Pricescope 11 years ago and 50k posts later, Andrey generously surprised me with a $1k gift to be used with any PS sponsor for being the first person to reach 50k posts! I thought about it for a couple of months, and I decided to do one final, but small upgrade to my
Whiteflash
diamond stud earrings! My upgrade 2 years ago was intended to be my last, but at that time, they didn't have a matched pair of ACAs in exactly the size and specs I wanted, but I went ahead anyway and upgraded from .80 cts each to 1.15 cts each. After getting the PS gift, I thought that maybe I should see if my ideal pair of ACAs was available, and it was! I was hoping to get close to 1.3 cts each (7mm) and H VS2. (I have room on my ears to wear 2+ cts each, but in my world even 1 ct each is huge!) They had a great pair around 1.28 each (2.55 ctw), which was perfect for me!
The Pricescope gift gave me the (guilt-free) opportunity to upgrade my settings to
Whiteflash
custom crown settings in platinum! I chose them over the 6 prong martinis because they have a wider base which helps them to not tilt, yet they look almost just like the 6 prong martinis looking at the earrings on the ear. I asked them to set the stones low. Even though prongs look big in magnified photos, they are small and delicate in person!
My earrings came yesterday and I could not be more pleased! They are perfect! I want to thank Sheerah for her patience through my many upgrades and the entire
Whiteflash
team who make buyng there such a pleasure! They have a super upgrade policy, and I should be the poster child for upgrade policies!

Thanks so much to Andrey and Pricescope for the generous gift! I clearly love this forum and especially the many wonderful PS people I have had the pleasure of meeting over the years!

First, I will show you pictures taken by
Whiteflash
. My stones have almost the same diameters and lgfs. Then there's an image of the setting CADs. Last, a
WF
glamour shot! More pics to follow....