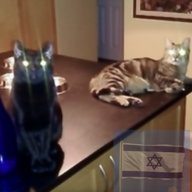 Joined

Jun 8, 2008
Messages

45,044
GM lovely ladies and happy FriYAY!
@bling_dream19
it's our favorite day. Hope the week is going well and all is good by you. Looking forward to a beautiful weekend. Hugs to you and your sweet DH.
@springerspaniel
that is a beautiful island. Hope your paper is successfully completed and you are pleased with the results. Have a wonderful weekend. Hugs to you and your furry babies. XOXO.
@canuk-gal
how are you doing? I hope each day is getting a bit better and easier and you are feeling well. Thinking of you and sending many hugs and good wishes your way.
@Sally Brown
did you schedule your gall bladder surgery yet? I am sorry I don't remember. We are still waiting for Greg's consult and lots going on next month. I am nervous and just hope the doctors agree he has hyperparathyroidism and will help him. Such a complex diagnosis but I joined a group all about hyperparathyroidism and they gave me a questionnaire for Greg to take and the results showed yes he has it. So now hoping the doctors agree. Anyway hope you are doing well and feeling good and sending you all the best. Hugs.
@junebug17
that is great your DH can work from home. Are you guys going to stay in NJ or are you thinking about heading back to SC since he can work remotely? Thank you for the good wishes. And I agree remaining positive is a good way to be. One day at a time and we will get through this. And boring is good lol. Bring on the boring please. I will take that.
We are in for some lovely weather and I hope you enjoy a wonderful weekend. Hugs.
@Austina
how are you? Any updates re the electrical issues? Have you gotten in touch with the people who installed your island? I am keeping good thoughts for you and just glad you have a workable situation right now and can work around the problem. Hugs and hope you have a wonderful Friday. XOXO.
@marcy
woohoo 4 day weekend rocks and also woohoo it's FriYAY. What are your weekend plans? Hope your weather is decent and you are looking forward to some R&R. XOXO.
@Bayek
thanks for the IG love. Hope all is going smoothly and you are continuing to heal and feeling well. Hope the house is coming along and almost ready for you guys. Big hugs and love.
@MamaBee
you remain in my thoughts and you will get past this and things will get better. In the meantime it sucks but you have to do what is best for you. You are a wonderful parent and any child would be so fortunate to have you and right now you are doing what is best for everyone. Big hugs and good thoughts for all of you. XOXO.
@Scandinavian
what coat do you wear for active sports outside in the winter? I bet you have a great coat given your climate. I am interested because I am always looking for a warm active winter coat so I can be outdoors in freezing cold weather and in the winter I am always cold. Hugs.
We went hiking yesterday as it was still too cold and windy for cycling. It was an exhilarating hike and I was super careful as I am klutzy. It was a beautiful day and I warmed up quickly. I took a few pics along the way but not too many because we had a lot of ground to cover. Have a fantastic FriYAY lovely friends. Hugs to all of you.