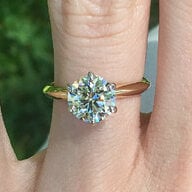 Joined

Jan 21, 2018
Messages

76
@TreeScientist @foxinsox

Please read her post again.

@mk206

said she heard Tiffany say they did not use GIA due to inconsistent grading. I commented maybe that could also be with AGS because my AGS 000 HOF is less sparkly than my Tiffany that has a GIA.

This is not about a Tiffany grading. It is GIA vs. AGS.
I was merely repeating what I had been told... I myself would tend to trust GIA and AGS over Tiffany's lab any day due to the conflict of interest described earlier in this thread. I'm also not trying to start any GIA/AGS wars here.
At this point I don't know if Tiffany rings do or don't come with a GIA certificate... A few months ago when I was looking at their diamonds (around 1.5 ct) I was told by the store manager that they stopped using GIA years ago for the reason above, but OP says she just confirmed on Saturday that diamonds over 1 ct come with the GIA report.
OP- back to YOU! Only you can decide what is most important to you. And it is sounding like the Tiffany name and original setting is where your heart is. Other PSers (with much more experience than me!) and myself have let you know our thoughts on stones and size and budget, etc. but it is really up to you to decide what you would feel happiest and most satisfied with over the long term. Looking forward to seeing what you choose!