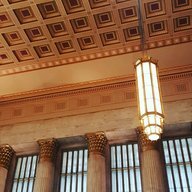 Joined

Apr 1, 2018
Messages

9
Hello! This is my first post. I've been reading this forum for a few months and really appreciate the in-depth diamond knowledge of everyone here!
I'm looking at much smaller diamonds than most of what I've seen here (around .27 carat) but I'd still like to get a quality one.
My boyfriend and I have been talking about getting engaged for a while now, and finally made an appointment at Tiffany's in Philadelphia to see what rings they have this past Saturday. I am mostly interested in the Tiffany setting because of how old it is and Tiffany's contributions to the history of jewelry and other things in the US past. I'm very much into the history of stuff!
I acknowledge their present reputation is not as good as it used to be though, and was ready for a limited selection of possibly less than ideal-cut stones.
I was happy to get "the experience" but it wasn't as in-depth as I'd hoped, maybe due to a bunch of odd reasons. We decided to put a fully refundable deposit on a .27 carat VS1 3X cut I color with faint fluorescence. They are shipping it here so we can see it in person. It was $1920, about $100-300 less than the other .27 carat rings they had on the short list they gave us. I assumed the reduced price was because of the fluorescence, which I actually was looking for!
Of course, after the deposit was placed, I checked the HCA chart and was disappointed to see it was listed as 3.5, very similar to the thread I was just reading here!
https://www.pricescope.com/communit...-with-my-tiffany-ring-opinions-please.238068/
Of course that one was for a much bigger diamond.

Will an HCA rating of 3.5 matter on a small stone, or does it not matter that much at all?
https://www.whiteflash.com/about-diamonds/diamond-education/holloway-cut-advisor-hca.htm

Since the ring is only $1920 (not including tax) does it not really matter since a lot of the price is in the platinum setting which I wanted? (even though platinum prices are down the past few years they are still much more than gold bands, similar styles are about $800 to $1500)

Should I give up on the historical appeal of the authentic Tiffany setting and get a similar one from Whiteflash? I really like how they take great photos of the diamond and your finished ring.

Would it be worth it to bother more SAs at Tiffany's trying to chase down the perfect diamond? I was pretty direct about what I wanted, but the SA was more about recommending their limited selection.

Should I get a great priced and possibly better diamond on a used Tiffany setting off of eBay? (But odds are it won't come with the documentation or could be misrepresented)

Do you recommend buying a loupe to look at the diamond that's being shipped here? It would be good to know what kind of inclusions there are in this VS1 (would be nice if it was a cloud for personal reasons!), but I don't think Tiffany specifies that at all.
Phew! Thanks for reading. As you can see I'm super particular and my ideal would probably be very hard to find even on the top websites. It's most likely going to be the largest diamond I ever own unless I keep spending more time here. Haha! I'd appreciate any advice!