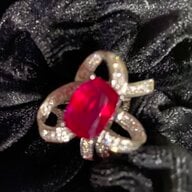 Joined

Apr 3, 2019
Messages

500
@Crimson

how clean was that emerald in real life?

I've never seen amazing stuff like this in real life so I'm curious to see if there is much or any Jardin in it at all.
It does have some Jardin, but it is pretty clean for an emerald. It is not Muzo green or Old Mine though. Some ppl approached me to admire it on my hand and commented that it was lovely. To me, it looks like a Chivor emerald. Here is a pic in direct light - you can see the inclusions but they are spread out so they are not distracting. The stone is quite bright and flashy. It is 11 ct, approx 14x12 mm so it is passes the famous
@mellowyellowgirl
visibility test .