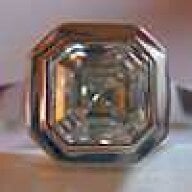 Joined

Mar 2, 2004
Messages

10,100
Good sunday afternoon, ladies!
I have a new goodie, mostly inspired by TGal''s amazing purchase, Linda''s string of amazing pad avatars, and a little bit of luck!
I was in my jeweler''s office getting my
ACA
ring repaired (melee fell out so I waited while he fixed it) and in walked this fabulous woman. She reminded me of Sophia Loren, and had appropriately beautiful jewelry. She was wearing an ENORMOUS Emerald Cut diamond on one hand, and on the other, she was wearing a ~10 ct. pillowy cushion Padparadscha! My jaw just dropped, so naturally I had to talk to her. She had a ~7-10 ct. Platinum Hamilton watch she was dropping off for repair (one of the bezel set OECs was loose) so we both got to chatting. I was ohhhhh''ing and ahhhh''ing over her ginormous Pad, to which she mentioned that my jeweler had one of her small Pads on consignment in the back. She''d never set it because she felt it was too small for her, so I asked my jeweler if I could see it.
I was smitten! It''s really a fabulous colour, I love the cut, although it has a small window. According to the seller, her husband picked up a suite of Pads from London sometime in the mid 90s, and this was the smallest of the suite. I''ve paid a deposit on it to take it home and get pics of it, but thought I would see what you guys thought of it before I paid the rest.
Stats - 2.03
Measurements - 6.47 x 6.55 x 5.09
First pic - in the box. This little gembox has a glass top, which is kind of cool and different.