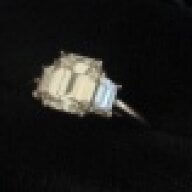 Joined

May 15, 2005
Messages

2,360
UPDATED 2/17 WITH NEW PICS ON PAGE 3
_____________________________________
Okay, I know...I have been through many 'o changes. For those of you who loved my asscher and trap e-ring, I thank you. However, after a "GREAT" deal opportunity came, I decided it was time to change.
For those who don't know. I had a 1.92 Asscher GIA "I" VS1 with two side trap diamonds. I liked the ring, I never loved it.
But
the "I" color and "small" asscher look soon set in...once I did serious ring browsing a few weeks ago for fun.
THEN
on of all places,
EBAY
a new seller (and owner of a small jewelry store in AZ) listed a 1.5 GIA & TIffany Co "E" color, VS1 Emerald Cut with two brilliant triangles of "E" color and VS1 clarity .44cttw. It came with the original papers and receipts (however, due to my super super luck, they never posted the scans of the documents, nor did they have decent photos of the ring)....
After waiting until it had 1 day left and no bids at 10,200 my husband-to-be made an offer: My current e-ring and $2,000
THEY TOOK THE DEAL!
I JUST GOT BACK FROM T & CO, it is AUTHENTIC, and I LOVE LOVE LOVE LOVE LOVE IT! MORE PICS & SPECS TO COME...I AM ON MY WAY OUT THE DOOR!!!