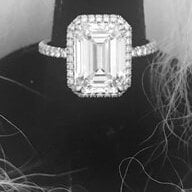 Joined

Aug 26, 2011
Messages

894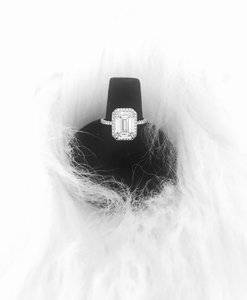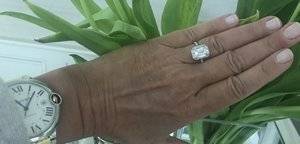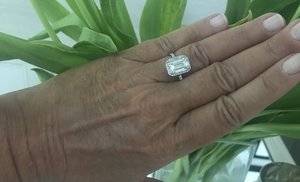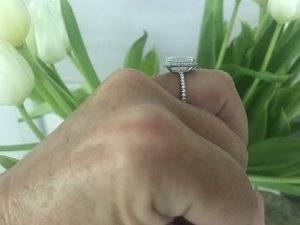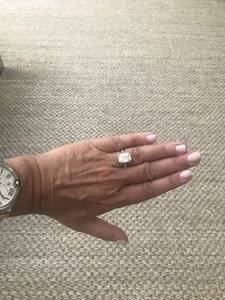 As some of you know, I had been looking for a new EC diamond for quite some time (a couple of years). I was trying to balance my budget w cut (first and foremost and then w clarity, size & color). Not always an easy task.
I am finally at peace w my purchase (thank heavens) and I can say that I truly love my stone. Adam at OWD's is so patient, kind and such a gentleman. He also is ridiculously quick to respond to each and every question. He's very sincere and really wants you to be happy. That alone was worth the extra cost of us going over my original budget (hopefully for my poor husband also, lol).
My stone is an EC
4.04ct
J/VS1 (Med Fl)
7.77 X 10.68 X 5.11
EX
EX
Table 64
Depth 65.8
Slightly Th to Th
I have to say that it looks as white as can be. Even my husband (who was against anything below a G) could not believe how white it looks. The GIa report from the vendor in comments said it should have been graded I w out Fl (not sure how they would know that, as the FL makes it whiter) but nonetheless, it doesn't matter. It's my forever.
Adam, as many of you know, did my Halo setting for me. There was some nail biting I must admit. It's not a VC or SK or LM but honestly, I'm so happy with it and the most important thing for me was that it was barely noticeable and to just flow into the stone. I'm relieved to say that I think he was able to accomplish this and w out breaking the bank.
I know that it is micro pave and the shank is 1.77 and the halo 1.4. It is set in Platinum w a circular band and deep U pave cut. It has single barely there claw prongs and is set above the halo w it tucked ever so slightly under the stone, as to not over power it.
Here are a few photos I took and also wanted to try and give a real life perspective of how dainty it is.
The photos that are closer tend to show it as being more metal, whereas in real life you truly do not see anything but white tiny diamonds. It does remind me of the Tiffany one but DEf less metal than the one I tried on (thankfully bc I did not love that setting but appreciated it wasn't not too big).
Thank you again for all of you that gave your 2 cents, words of wisdom and encouragement. It's truly been appreciated.